This article shares the results we received from a recent agents survey about the Properstar agent dashboard and our new features and services.
Marketing Resources
The marketing resources tab is located on the agent dashboard, several resources are available in the marketing kit.
"The kits offered are very relevant."
Personalized Luxury and Global Agent Brochures
Of all the downloadable content, agents favored and used the personalized Luxury and Global agent brochures the most. These brochures are used by agents to share with their clients and highlight that they have an international market presence through their association with Properstar.
"The brochures are focused on getting the message to the property owner."



B

elieved that the brochures were

very effective

to win more sales

and improve marketing efforts.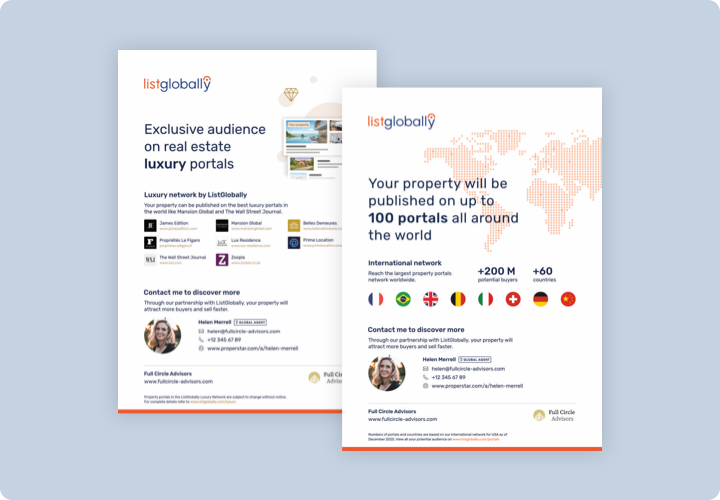 Share
where your listings are published
The Share Report feature, allows agents to communicate with the property seller and displays all the portals where their property is published, including a direct link to the property detail on those portals.  

Polled agents are
very likely to share the listing report with their property sellers.

"I love that prospective clients can find my properties."
Listing Promotions
Elite and Luxury promotions allow Global Agents to publish selected listings on the Properstar luxury and international networks of real estate portals with an elevated position.

Found
Elite
and
Luxury
promotions very appealing and useful.
In ranked order of importance, agents told us that they valued these things about our product line:
1. I can purchase promotion boosters for different listings
2. I can offer international visibility for my listings
3. I can transfer a paid promotion to another listing
4. The low cost of the promotions
"Properstar is a great way for me to get my listings seen internationally. It also provides me with the tools to make my listings attractive to potential clients."
Polled agents indicated that Properstar offerings helped them to:
1. Reach a larger audience
2. Attract and impress property sellers
3. Be at the top of search results
4. Get good value for marketing efforts
Overall, agents stated that our products, services, and features had positively impacted their success in the international real estate market.



Said their association with Properstar had a high impact on their business.
This is great news, as we offer our network capability and our strong international presence for just that reason – for global agents to succeed.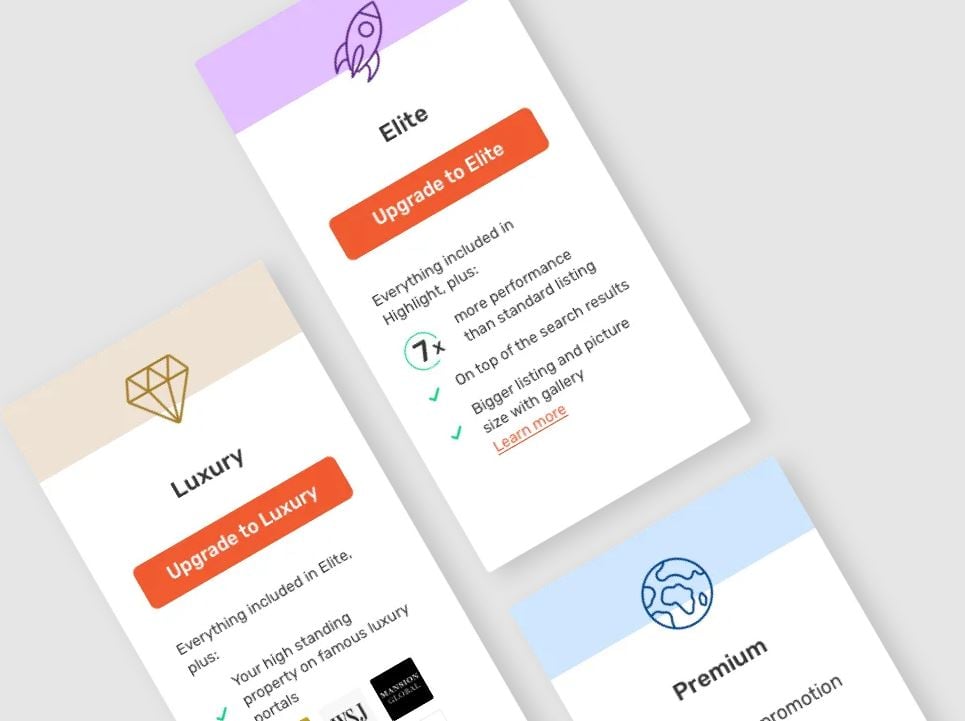 Concierge for International Property Sales
Our Concierge team calls and prequalifies contacts who have requested help with property searches on our Properstar portals. Operators collect criteria and forward the information to a real estate agency with property listings that match the request.

Agents found that the Concierge service was highly beneficial to them.
Polled agents liked:
1. The assurance that the contact had been reached in person (pre-qualified),
2. That it saved them time and,
3. Knowing the language and nationality of the contact.
Overall, agents told us that the most important information they receive through the Concierge service is knowing about the financing capacity of the contact.
"It's a very important service and stands out a lot from the other portals that do not use a concierge service."

Support and Sales
We want to be available to our agents at all times, so Properstar provides support through email and online chat. The sales team is happy to call you back on request.

Polled agents found Properstar sales and support to be excellent.
Overall, our polled agents gave high marks for the experience they have had with our sales and support staff members. Thank you!
Reports and Market Data
Properstar is continually gathering information and sharing market-specific data, trends, and reports. We hoped our agents noticed and they did!
"It is interesting to have knowledge of what the international client thinks."

Surveyed agents search our blog articles and market reports for specific information.
Here is what agents are also looking for on our blog:
1. Marketing tips
2. Real estate tips
3. International property buyer articles
4. Reports and survey results
Summary
The new and enhanced features that we have added over the past year have been well received by international agents in general, however, we do have room for improvement in communicating these features with our agents. We would like to see more agents utilize the resources and will fine-tune the elements so that they continue to meet their business needs.
Thank you to those who took the time to participate in our survey.
Onward into 2022
When we polled our clients earlier in the year, they told us that their top challenges involved accurately qualifying their leads. We have increased our capacity to provide Concierge service to international agents and we have seen improvement in the communications between agents with our Concierge team.
We appreciate our clients and look forward to continued success in this evolving and exciting time in international real estate. Let's continue to grow together as we enter a new year.